While many companies have implemented VPN to allow the employees access to the office servers and applications, some have opted for Private Cloud Collaboration Platform (CCP) to enable remote working. This article provides tips on how you can setup such remote working environment immediately with a CCP.
1. Replicate your Office File Server on CCP
When your workers need to have access to the files in the office file server, and you haven't had a VPN setup for it, the alternate solution is to sync the folders in the office server to the CCP, where all your workers can easily collaborate and share files.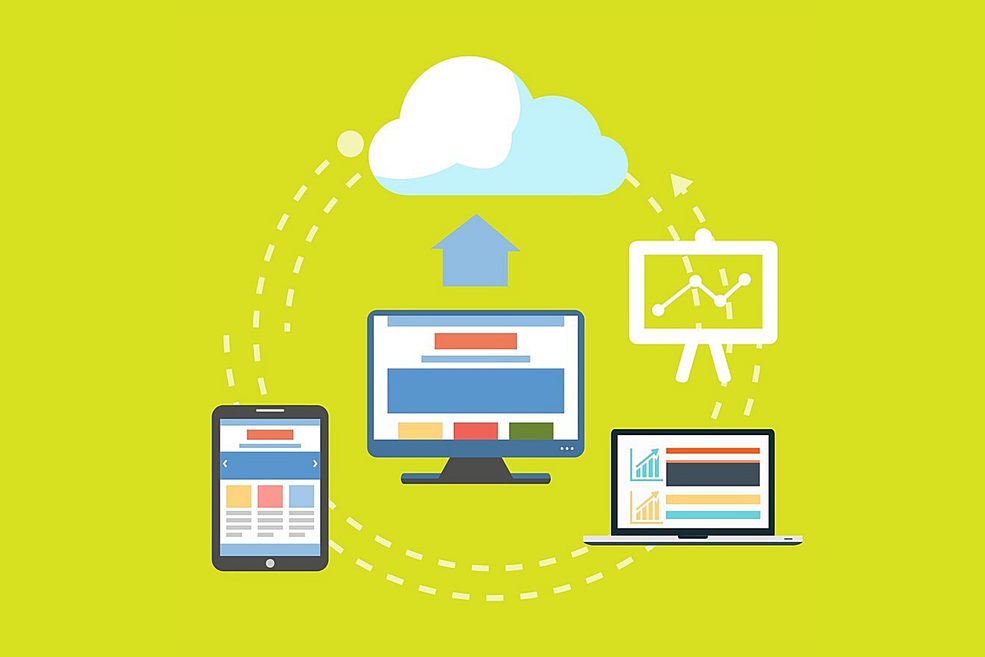 Synchronizing Office Servers with CCP allows Easy Remote Working for your Employees
Files that are updated in CCP will be synchronized with the office server so all files and folders will be the most updated ones at all time, making it easy for both office and remote workers to collaborate on shared folders and files.
2. File versioning at CCP
Historical versions at CCP allows the user to roll back to the desired version as and when required especially if some important details of the file have been accidentally deleted by mistakes on the latest update.
Roll back to the versions that you want anytime
3. Files and Folders Redundancy
CCP shines especially when one day the office file server finally stops working due to hard disk failure and system corruption. All your files and folders can still be found on CCP as long as you have previously synced those folders between the office file server and the CCP. Both office and remote workers can temporarily be using the CCP to share and collaborate without any downtime.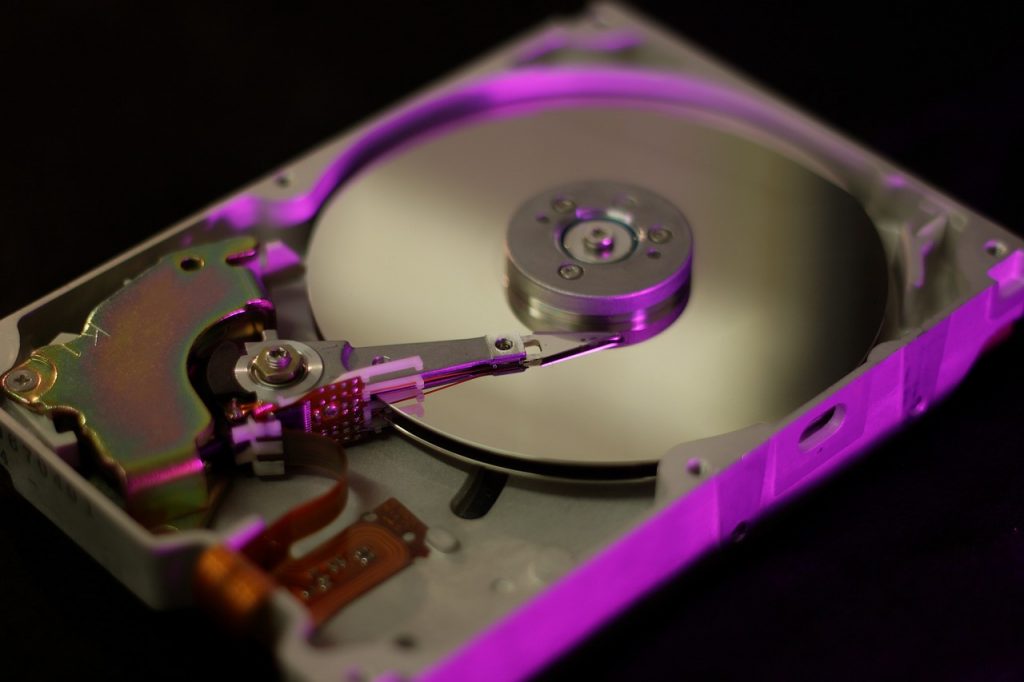 When your hard disk or server fails to function properly, CCP allows your employees to carry on with their daily work regardless they are in the office or at home
4. Huge File Sharing
i. Share File or Folder via an URL Link
Create an URL Link for the file and send to your recipient via whatspp or email.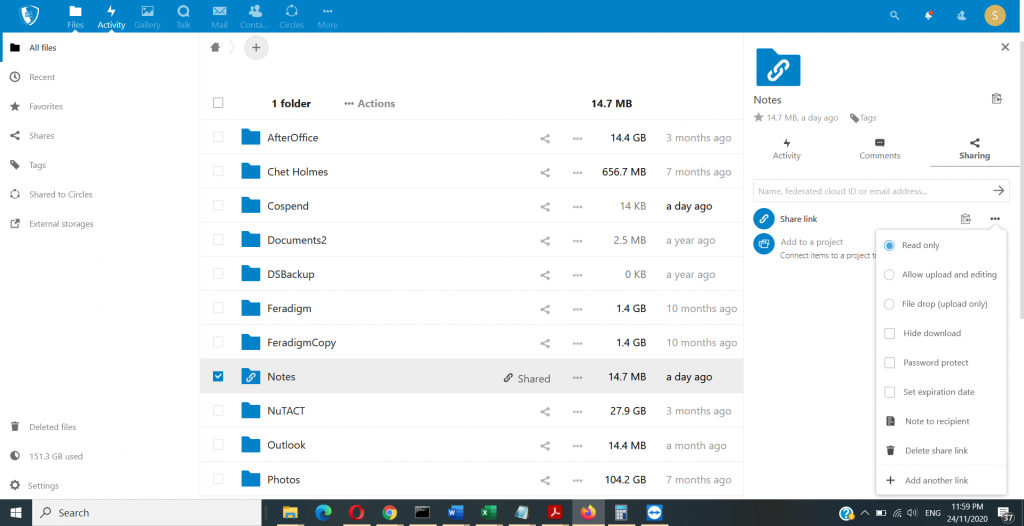 Sharing the Folder to your recipient but only allowing him/her to download and read.
ii. Allow Recipients of URL Link to upload files
The recipient can also upload to the same Folder with the URL Link that you sent him or her.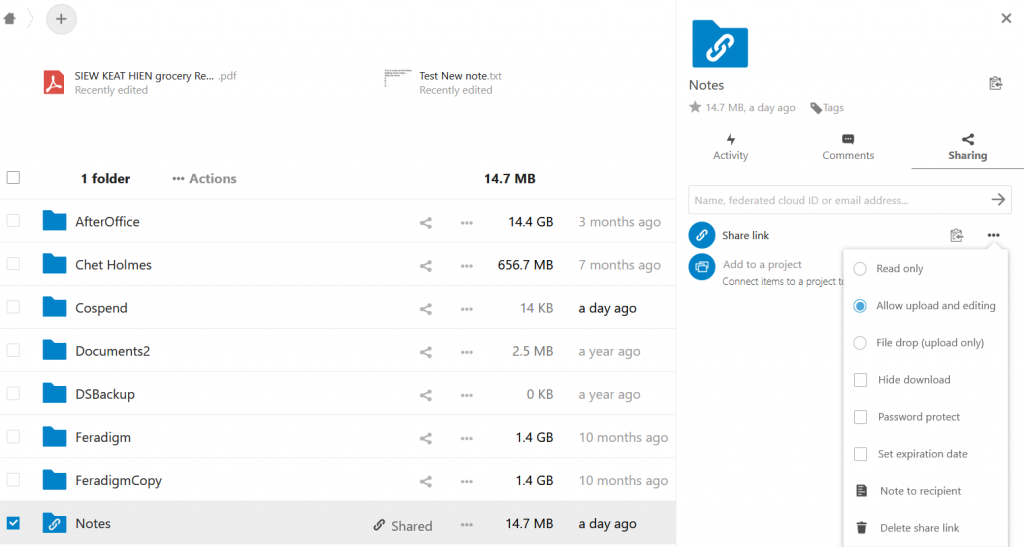 User can share an URL Link of a folder and allow the recipient to upload and edit files.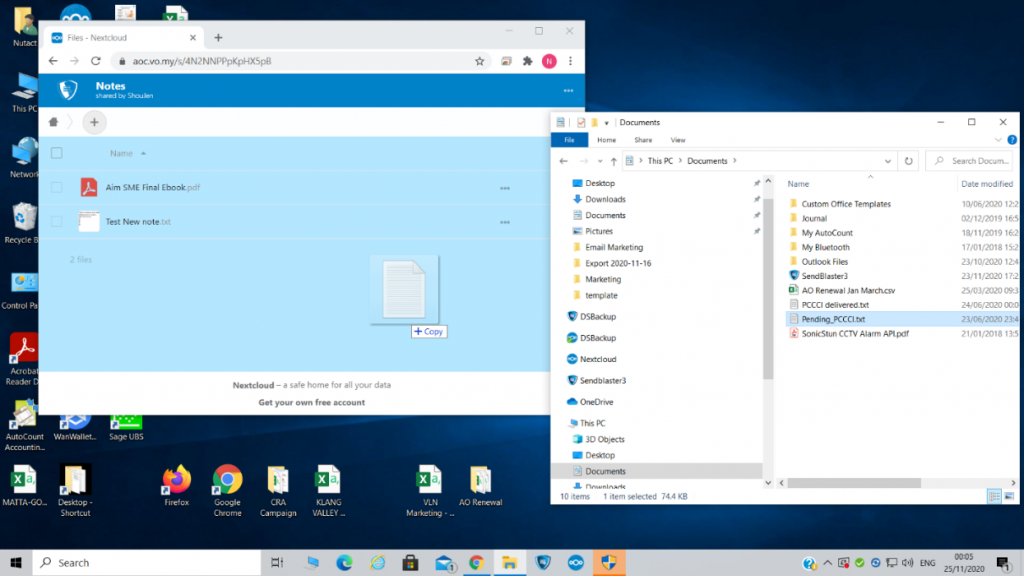 The recipient is uploading the file with Drag and Drop.
iii. Share via the Sync Client (as mentioned in item 1)
Synchronize your folder with the one on CCP without having to having to upload and download manually.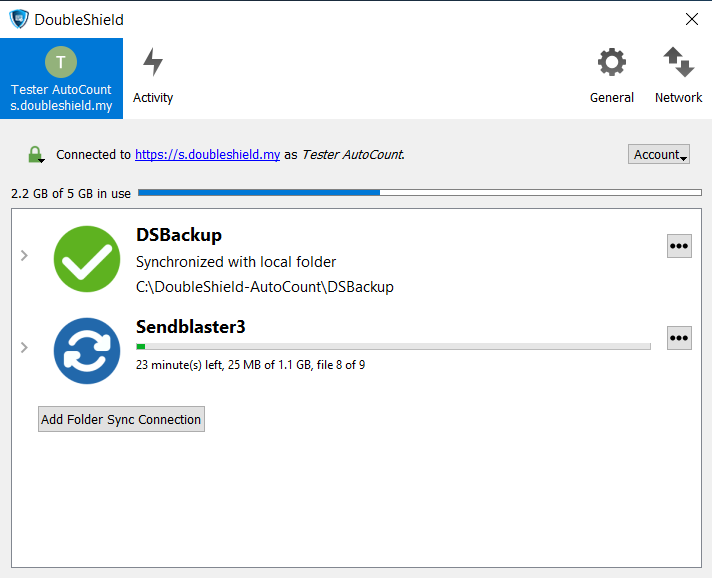 Synchronization allows both the Office Server and CCP have the same files at all time
iv. Outlook plug-in for sending huge file in a URL Link
Tired of getting bounced mail from oversized attachment? Well, the Outlook Plugin will smoothen your experience of sending huge attachment. The Outlook Plugin will upload the file to CCP and create an URL Link in your email automatically. Now you won't get any more bounced mail due to huge attachment.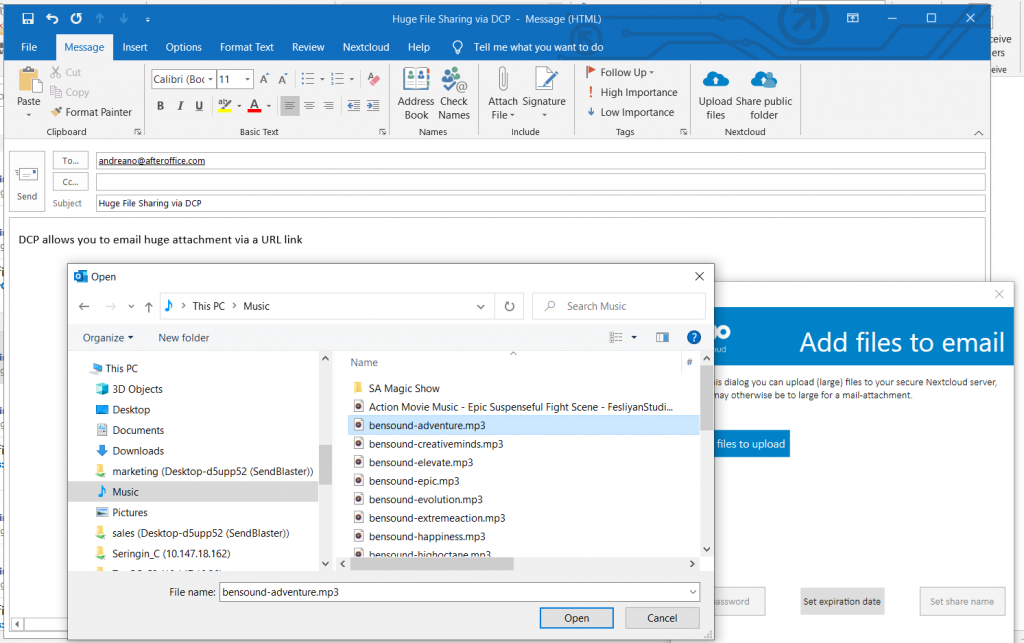 Using the Outlook Plugin to create the URL Link for email attachment
5. Project or Subject Discussion via Chatroom or Comment
i. Attach Files to your Discussion
Isn't great to be able to attach files in your Whatsapp during a discussion, but Whatsapp fares poorly when it comes to file management and data preservation and organization of all information. Now with CCP Chatroom, all discussion is preserved and the files are stored at the correct folders as they should be making collaboration much easier.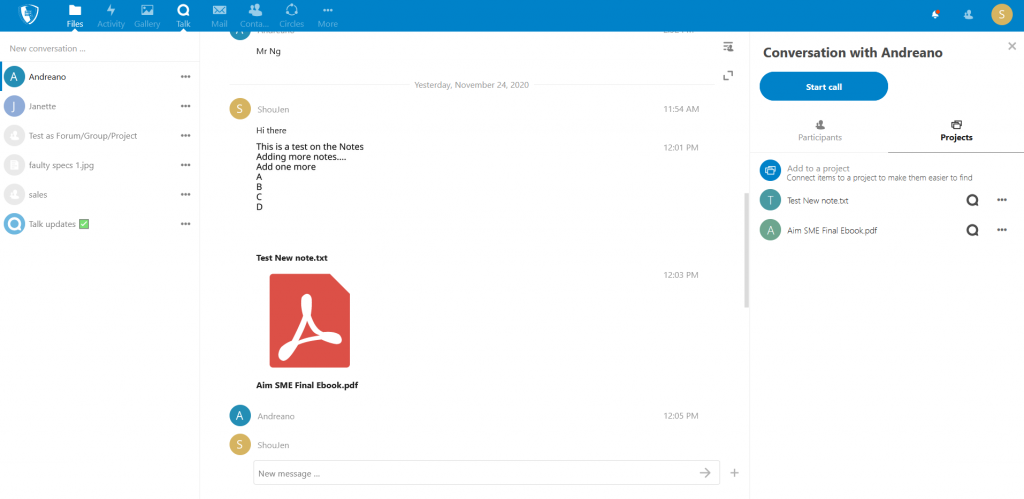 ii. Add Comments to a File
Users can interact and discuss specifically about a file whether it's something that has been updated or revised, or anything the user wish to share about the file.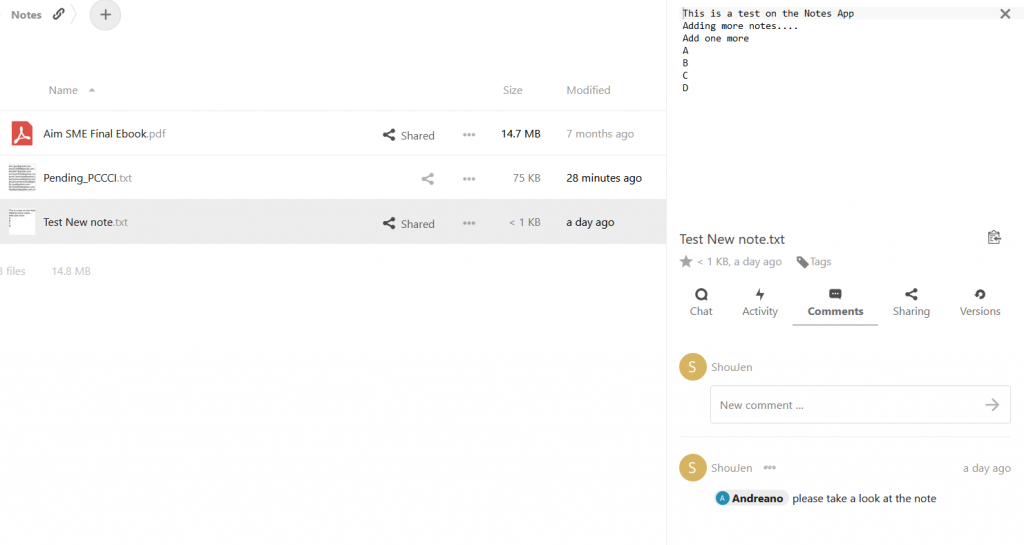 6. User Group Access Control
Admin can set certain folders to be accessible by certain Groups or Users. User can also allow other users to have access to his or her private folder.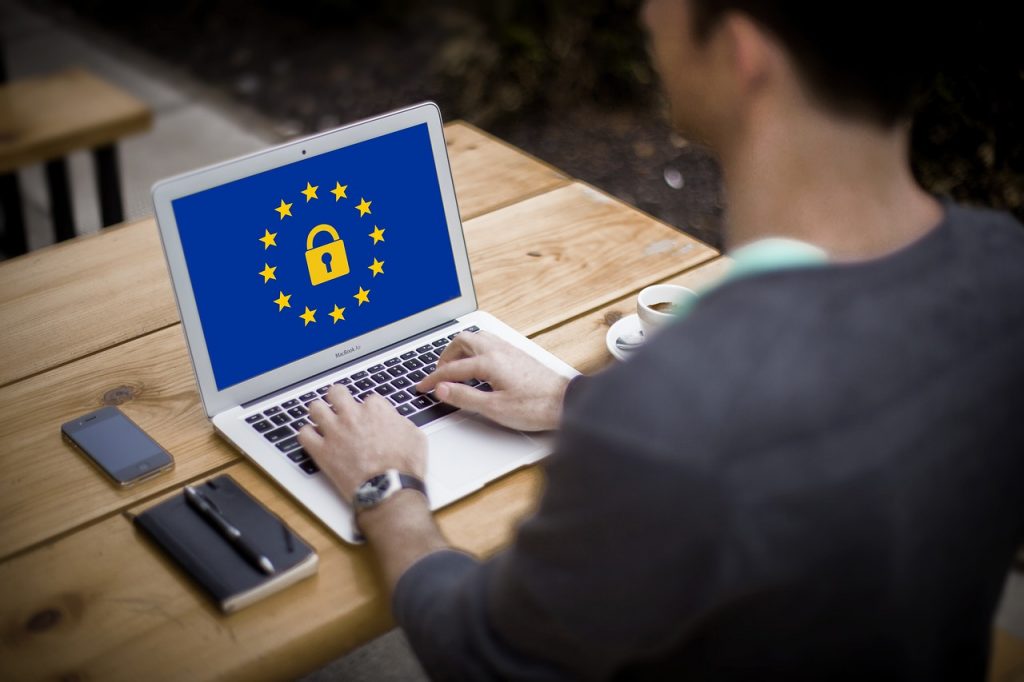 Users can only see folders that they are accessible to.
7. Activities Tracking
If anyone wish to see what has been transpiring on the CCB, Activities Tracking allows the user to view in the following 2 ways:
i. Activities Tracking by Date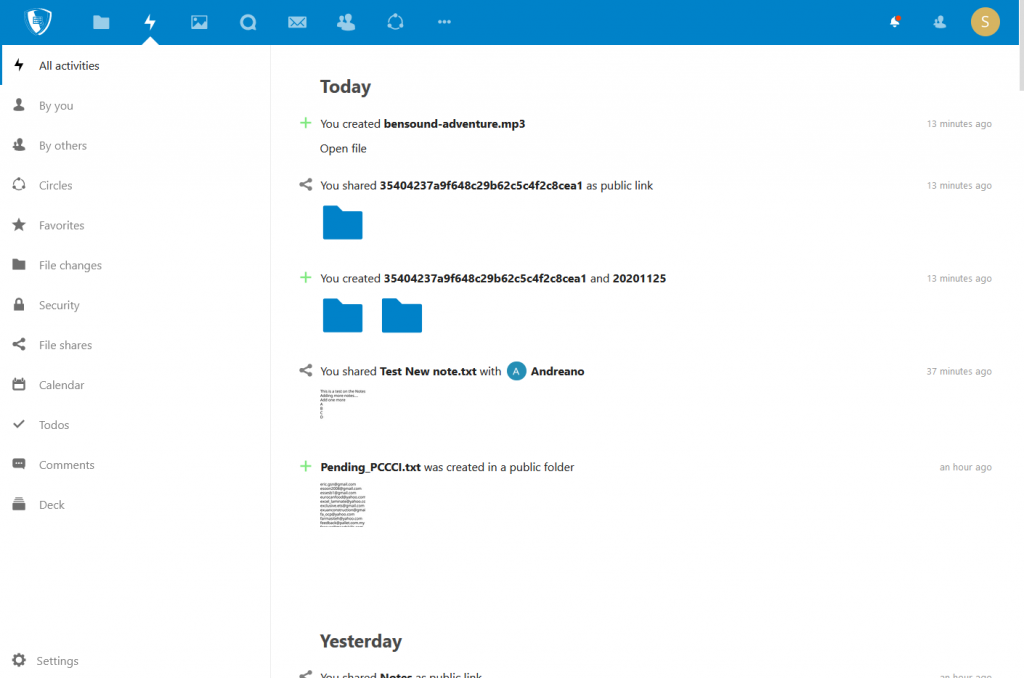 ii. Activities Tracking by File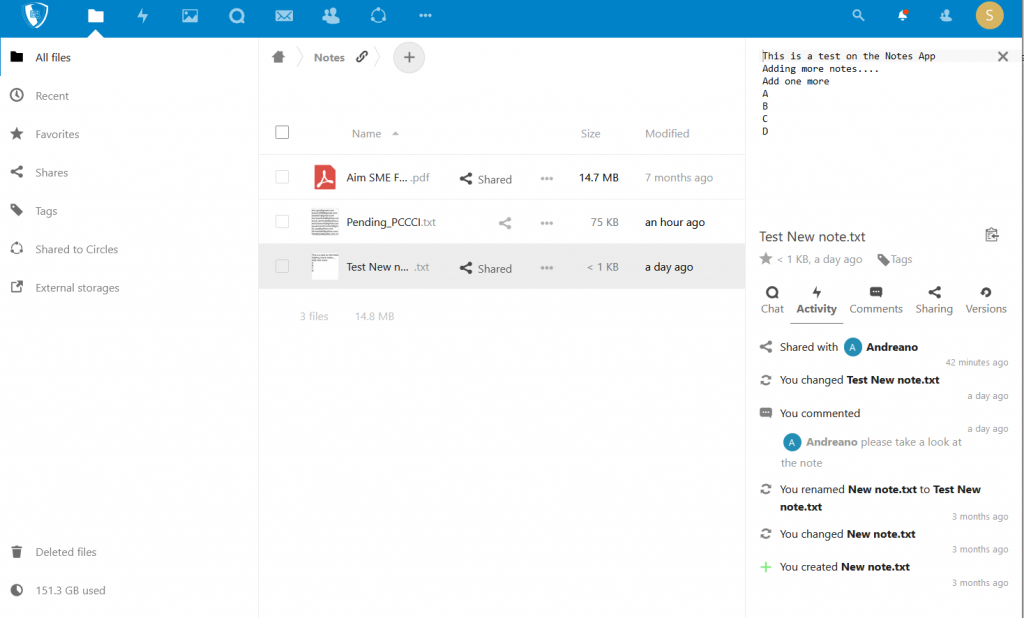 8. Gallery for Photos and Images
With the overview of thumbnails on all folders, the user can easily locate the folder with the photos or images in search of.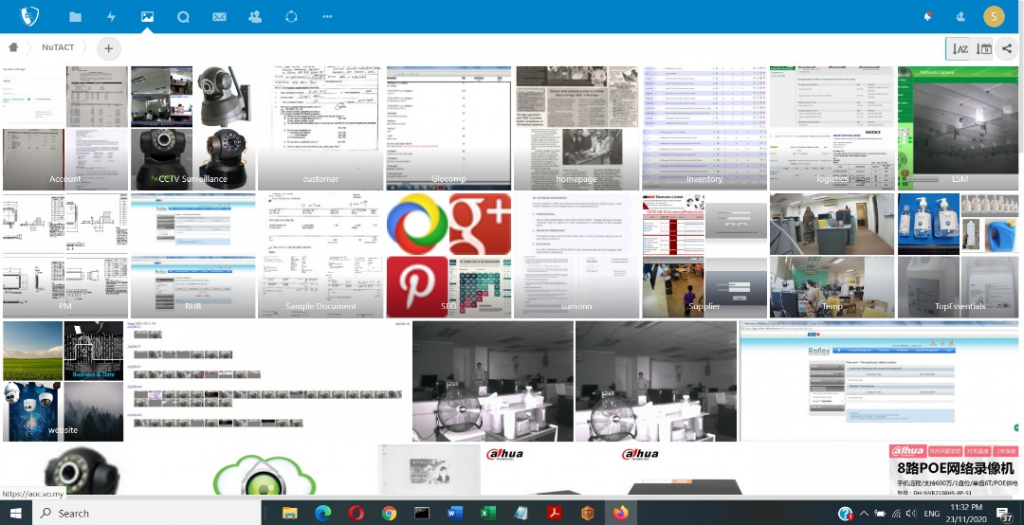 Gallery
9. Projects and Tasks Monitoring
Keep your deadline intact and progress up to date and make tasks review simple.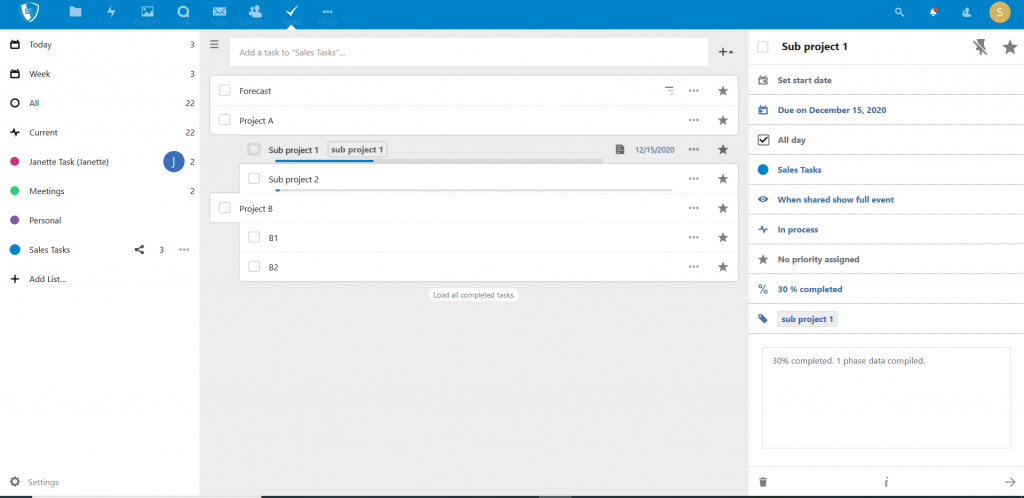 DoubleShield Cloud Platform (DCP) is the CCP that allows you to do all the above and more. Please feel free to contact our team if you are interested to find out more or have questions that need to be answered. We can reached with the number and email below.
Phone: +603-7877 4680 or WhatsappUS
Email: doubleshield@afteroffice.com